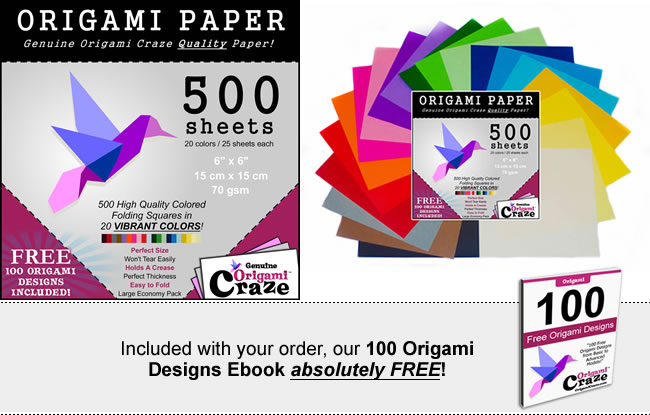 500 Sheet Pack Origami Paper
20 Vibrant Colors
6″ x 6″ (15 cm x 15 cm)
UPC: 820103341417
AMAZON ASIN: B00DUSKPUE
Get Our FREE 100 Origami Designs Ebook With Your Purchase!
Description
Now, get this exclusive Origami Craze Origami Paper. Made of the finest quality paper, this paper will fold easily, hold a crease, and is very hard to tear.
Make incredible origami designs and still have plenty of paper for more! Introducing our 500 Sheet ULTIMATE COLOR Economy Pack!
As our gift for ordering today, get our 100 Origami Designs Ebook absolutely FREE. This ebook is loaded with over 100 fabulous origami designs for beginners to advanced origami enthusiasts.
BUY ON AMAZON:

BUY THIS ORIGAMI PAPER FROM AMAZON…JUST CLICK HERE!
You can purchase any of our fine quality products at retail outlets across the country. Just ask for "Origami Craze" origami paper!
Coming soon to Amazon.com